Low cost, high quality, and easy to install tablet wall mounts.
Some things a wall mounted tablet can do...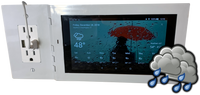 Ask Alexa to carry out tasks
The most obvious thing you can do with a wall mounted amazon fire 7 is ask alexa to do tasks for for you because basically it is now a wall mounted Echo Show. My favorite thing to ask is "Alexa what's the weather." The device brings up a nice forecast for the next few days.
Control A Smart Home
The best thing and my favorite thing you can do with a wall mounted tablet is control your smart home. If you have smart home enabled devices like me you can access their apps from this tablet and control them like philips hue, samsung smartthings, wink, nest, ring, openhab and home assistant.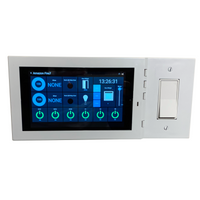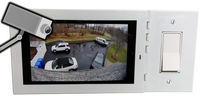 View Security Cameras
Another smart home related thing you can do is access your security cameras. If you have a web accessible security camera system like ring or any ip camera you can view it from the tablet and even have it on all the time to constantly monitor them.
Google cast or Apple Airplay
Have a piece of content you found on the web and want to share it on a bigger screen than your phone? Then you can simple cast it to the amazon fire 7 using either google cast or airplay. In order for this to work you need to install the AirScreen app on the amazon fire 7.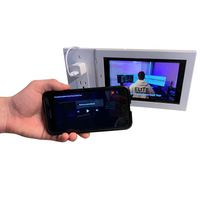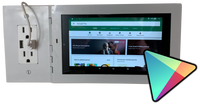 Download your favorite apps
Install the google play store on the amazon fire 7. With the play store installed you can install all your favorite apps.
In the kitchen
One of the best places I see to have a wall mounted tablet is in the kitchen. The kitchen is where people spend quite a bit of time. With the fire 7 on the wall you can look up recipes by simply asking alexa and then follow along on a big screen. It also does not take up any counter space like other devices.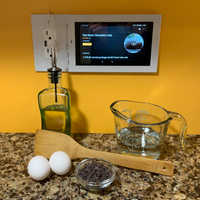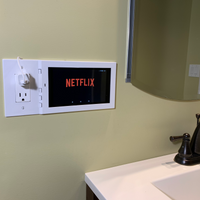 In the bathroom
Another place that is an absolute flex if you have a tablet installed and still useful is the bathroom. When guests come over they will be amazed and impressed that you have a screen in the bathroom. You can also enjoy content while you are doing your business, brushing your teeth or getting ready.
Digital picture frame
Pictures are how people bring back fantastic memories in their life as well as great conversation starters. On a wall mounted tablet you can have it cycle through your pictures constantly have a different picture displayed. Think of it as a digital picture frame.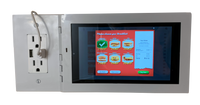 Kiosk Lockdown web broswer
A lockdown browser is an app or software where you only have access to a specific website. With a wall mounted tablet you could use that software and turn it into a sort of kiosk. You could have this in your house, an office, a restaurant and more. Take peoples orders, ask them surveys, or simply just display your website.